Reavell (High Pressure)
Through the Reavell brand Gardner Denver specialises in high pressure lubricated compression technology, with its skilled and knowledgeable global team boasting over a century of experience within the sector.
Creating bespoke solutions to meet our customers' needs, Gardner Denver has become renowned for providing high quality turnkey solutions in specialist air and gas applications by utilising the latest technological innovations combined with a Reavell lubricated piston compressor.
From simple compressors through to complex custom-engineered solutions, Reavell covers a wide range of applications in support of some of the world's leading companies.
Reavell was founded over a century ago on the 11 June 1898 as Reavell & Co Ltd. Engineers. Founded by Sir William Reavell on Ranelagh Road in Ipswich, the organisation specialised in steam engines and quadruplex compressors. Valued by engineering organisations and institutions for its durability and quality, Reavell compressors were used during the construction of the London Underground, the infancy stages of submarine warfare and the starting of diesel engines on British battleships and transatlantic ocean liners.
During the next decades Reavell equipment became increasingly popular across the world, leading the way in the usage of Compressed Natural Gas as a fuel source, while establishing Reavell quality as the unchallenged global benchmark for Heliox deep sea breathing applications.
Our engineering teams have been at the forefront of lubricated high compression systems for over a century. Combining class-leading technology leadership with a unique pedigree, our systems prove to be the solution of choice.
As an integral brand of Gardner Denver, Reavell is now manufactured in the high pressure Centre of Excellence based in Redditch (Birmingham), UK. Reavell has spent the last century dedicated to engineering excellence with complete commitment to total systems solutions.
Combining state-of-the-art product development, a unique testing facility and streamlined assembly with the industry's leading refurbishment capability, Reavell's product range is the envy of the sector.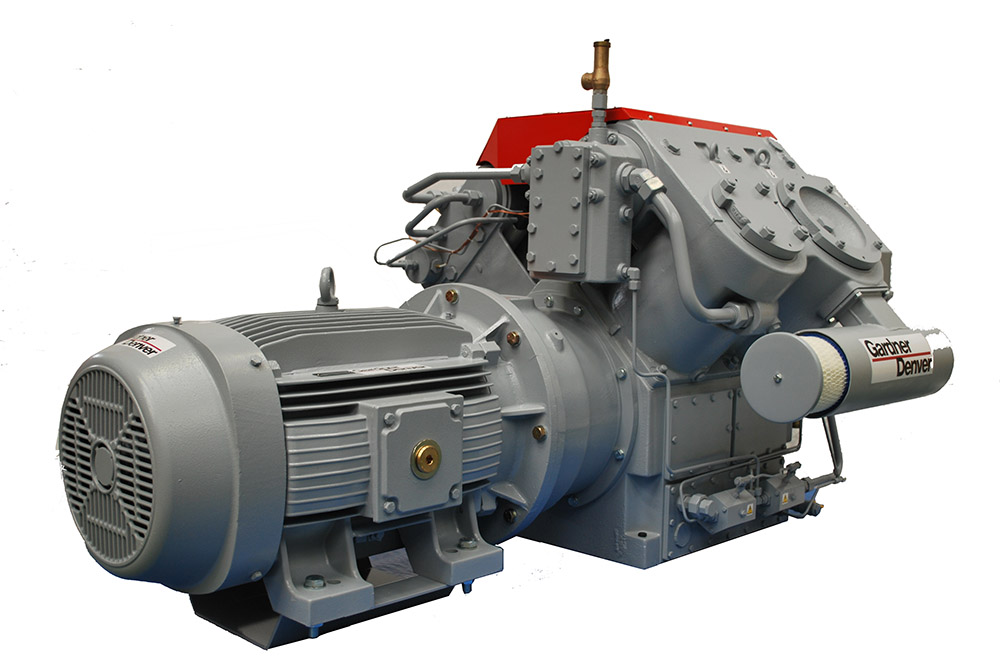 Performance Summary
Air Quality: Lubricated
Cooling: Air and Water
No.of Block: 12
Pressure 2.4 to 414 barg
Flow 4.9 – 1600 m3/hr, 2.8 to 941 CFM
Air Cooled Compressors
For the Air Cooled compressor unit, all excess heat is transferred to the ambient air environment. Utilised in GD's small as well as largest compression units, this type of cooling is flexible and adaptable to many applications.
Features and Benefits
Features
Benefits
Low Cost of Ownership
Low piston speeds reduce wear increasing component life

Forced air inter stage and final stage cooling ensuring no requirement for additional after coolers increasing life expectancy of compressor and lubricants. Increases service intervals, lowering running costs

Low Power Consumption
Electric motor driven sets offer energy efficiency with low operating noise
Small Compressor Footprint
Compact skid designs to optimise available installation space
Long term reliability
90o cylinder configuration for excellent balance
Simple Installation
Anti-vibration mounts reduces compressor vibration so no need for specialist foundations
Low Cost Maintenance
No lifting gear required for top end service, fast service, with reduced down time

High efficiency intake filter and silencer with replaceable element, gives fast simple service, with reduced down time
Air Cooled Compressors: Performance Envelope
Water Cooled Compressors
For the water cooled compression unit, all excess heat is transferred to the cooling water contained within the internal cooling system. The potential to link this system to an external water conditioning cooler makes this choice particularly attractive in a high temperature situations.
Features and Benefits
| Features | Benefits |
| --- | --- |
| Low Cost of Ownership | Low piston speeds reduce wear increasing component life |
| Low Power Consumption | Electric motor driven sets offer energy efficiency with low operating noise |
| Small Compressor Footprint | Compact skid designs to optimise available installation space |
| Long term reliability | 90o cylinder configuration for excellent balance |
| Simple Installation | Can be installed in a range of industrial or marine environments, suitable for direct cooling by fresh or sea water or from integral closed radiator circuit system |
| Low Cost Maintenance | Direct valve access, no removal of other components, valves can be replaced in less than five minutes |
Water Cooled Compressors: Performance Envelope